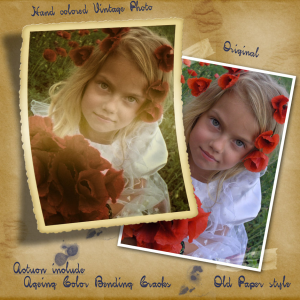 Title: Vintage Photo Action

Category: Photo Effects

filetype: ATN

file size: 26 kb

author: mutato-nomine

Description:

This is similar and improved version of my old actions. The Vintage Action includes: Aging; Color; Cracks; Bending and as a bonus Old Paper Style. Please read the Instructions first, before you run the action.

Free for personal use, for commercial please do ask. Thank you! Combine your photo with an old paper background to get a more vintage photo look. Did you know you can make vintage photo effects using CSS?
Rate: 2.72 ( 36 votes) Report Link: