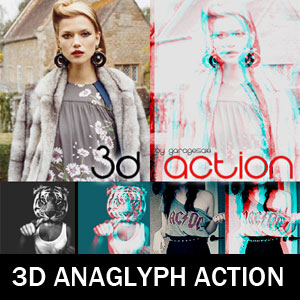 Download this 3D Photoshop action for free and create your own anaglyph effect. Anaglyph 3D is the name given to the stereoscopic 3D effect achieved by means of encoding each eye's image using filters of different (usually chromatically opposite) colors, typically red and cyan. Anaglyph 3D images contain two differently filtered colored images, one for each eye.
Video games, theatrical films, and DVDs can be shown in the anaglyph 3D process. With this anaglyph action you can now create in Photoshop your own stereoscopic 3D effect in Photoshop. Make sure you start with a locked background otherwise the action will not work properly.
Open the image you want to turn into 3D anaglyph and play the action. The result is flatten so it is not customizable.
rating: submitted by:admin views: 21937 website:garagesalee.deviantart.com