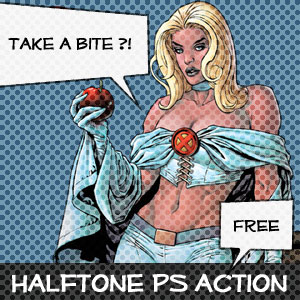 This halftone Photoshop action can be used to create comics and comic book illustrations using your own drawings and sketches. If you want to add text to your comic book designs, check out this free pack of comic PNG images from Photoshop Supply. To obtain the comic book effect, this action adds a halftone pattern over your image using the Halftone Pattern Filter.
It comes with two versions, round halftone and square halftone pattern. The layers are not rasterized so you can easily adjust the opacity of the halftone and even change its color. Free for personal non-commercial use; do not redistribute and if you use it link back to us! Also, an amazing asset for comic book design is this amazing free halftone texture pack that you should definitely check out.
If you want to create your own comic strips in Photoshop, I have a new free comic strip template that makes it easy to create professional-looking comic strips, even if you're not a professional artist.
rating: submitted by:admin views: 42237 website:www.actions4photoshop.com