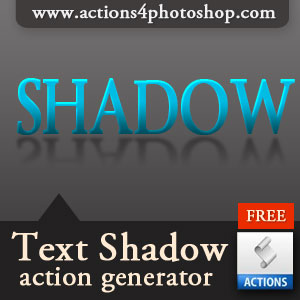 Title: Text Shadow Generator

Category: Text Effects

filetype: ATN

file size: 2.23 kb

author: actions4photoshop

Description:

The Text Shadow Generator is Photoshop action that adds a shadow effect to any text layer. All you have to do to make this shadow action work is to write your text and play the action. Make sure that the text layer is your only layer.

After the action is played you have three layers: the text layer with layer styles, the shadow layer and the background layer. All the layers have the layer styles intact so you can adjust the background color, the shadow opacity and the text color as you wish. This Shadow Generator is free for personal non commercial use, it can not be redistributed.

If you use it link back to us! If you want to add text to an image, I have the perfect online tool for you: MockoFun. Check out the curved text generator in which you can add your own photos, images from Textures4Photoshop and hundreds of thousands of other photos and graphic elements. It's fun and it's FREE!
Rate: 2.91 ( 11 votes) Report Link: