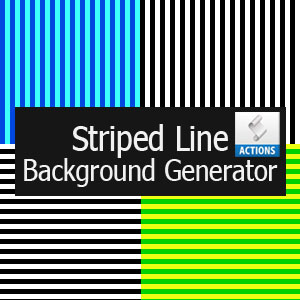 If you need a striped background or striped texture you can always use a Photoshop pattern. But you can aslo use this one click Photoshop action to make a line background. This action generates a line texture with both vertical and horizontal lines.
The pack contains 4 actions, a black and white vertical line background, a colored vertical line background, a black and white horizontal line background, a colored horizontal line background. You can customized the colored line background by changing the Color Overlay layer style. The lines were generated with the Wave distortion filter and the lines have the same size.
You can use this Photoshop action generator for personal non commercial use and you can not redistribute the file. Combine the striped line background with some wavy text and you'll get a truly unique design. Want to draw your own lines backgrounds? Check out this awesome tutorial about How To Draw A Line In Photoshop.
rating: submitted by:admin views: 8670 website:www.actions4photoshop.com