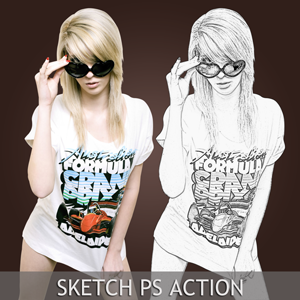 Title: Pencil Sketch Drawing Action for Photoshop

Category: Special Effects And Textures

filetype: ATN

file size: 911 kb

author: mohammed6651

Description:

Free Photoshop action that creates a realistic pencil sketch effect using any image. All the tubes of paint in the world cannot replace the simple pencil when it comes to artistic potential. With this Photoshop action you can transform a normal image into a classic pencil sketched drawing - pencil, charcoal, conte, or other mediums.

This sketch drawing action can be downloaded for free and you obtain great looking results. Download now the Skecth Photoshop Action!

If you are looking to learn how to draw or want to improve your drawing skills, one of the best methods is to use a drawing grid. Check out the Mockofun grid drawing tool to learn how to easily add a grid to a photo online and start drawing.
Rate: 3.74 ( 15 votes) Report Link:
Tags: