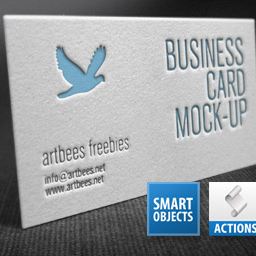 Title: Letterpress Business Card Photoshop Action

Category: Special Effects And Textures

filetype: ATN,PSD,PDF

file size: 9.72 MB

author: artbees

Description:

Download this Letterpress Business Card Photoshop Action Generator for free. Any idea how your new design will look on a letterpress business card? Well, you can try "Free letterpress business card mockup" and present your ideas to your clients, audiences and even yourself before any print jobs. It's super realistic simulated with a professional look.

Using photoshop smart objects and Photoshop actions it gets your own artwork and print it on a textured paper with letterpress look. Plus there is a visual quick guide. As always comments and shares are much appreciated.

You need Photoshop CS4 or higher to use business card mockup. Writing a name on heart is one of the simplest designs you can do using a heart image and a text effect like this letterpress effect.
Rate: 3.57 ( 7 votes) Report Link:
Tags: