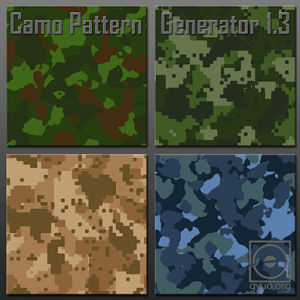 Title: Camo Pattern Generator

Category: Special Effects And Textures

filetype: ATN

file size: 2.1 kb

author: plastictrash

Description:

Alright, here's the updated version of my Camouflage Pattern Generator Photoshop action. The biggest improvement is the new look of the digi camo pattern, which is a lot more realistic now, I think. The usage is still the same, create a new document (something around 1024x1024 works best), select a background color and a foreground color (for the first pattern's color), run the script, change the remaining colors during runtime.

You'll be asked if you want to turn the resulting camouflage texture pattern into a digi camo pattern.The generated patterns, classic and digi, will both be seamlessly tileable.
Rate: 3.70 ( 13 votes) Report Link: