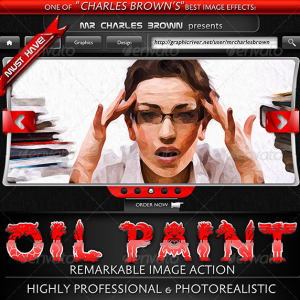 Title: Oil Painting Photoshop Action Premium

Category: Photo Effects

filetype: ATN

file size:

author: mrcharlesbrown

Description:

This Photoshop action was created based on buyers request. Imagine how incredible it is to achieve an oil painting effect like this in just ONE CLICK . No stress and huge time saver.

This is a unique Photoshop vector-based oil pain image action. You no longer need to spend hours or even days carving out different parts of an image and painting them individually in order to achieve a photo realistic hand-made oil paint effect. This action will do that for you.

This action utilizes some new features in Photoshop CS6 therefore, you need Photoshop CS6 in order to use this plug-in. Upgrade and enjoy the awesomeness of this action. From the MAKER of some of the best image actions in the web comes an amazing, ultimate, and celebrated oil paint image effect that renders excellent drawing and painting of any image.

Imagine, in less than 1 minute, it will professionally trace the edge and details of your artwork and transform it into a photo-realistic vector-based oil paint that resembles that of hand-made. The process is complex and took over 200 mouse clicks and hours of practice before a sound result was achieved. Grab it and see the difference.

This is a Photoshop plug in for CS6 that transforms your photos into paintings applying different artistic filter effects.
Rate: 2.75 ( 4 votes) Report Link:
Tags: